So we have a lot of things answered with Foals's new update...a lot.
Pictures are as follow: 
"I'll find you in the sand
wipe you clean with dirty hands"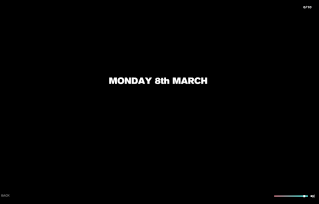 As always the last one says 6/10, the others say 5.
Sound familiar? Well it should, it's from 'Spanish Sahara'. So is the background music, in fact if you go back to my first point you'll notice how I said something about my friend Wes pointing out how there's a part in 'Spanish Sahara' that sounds like 'Ion Square' by Bloc Party. Well that part is played on their website once you're at these pages. This tells us a lot.
1 - What we've been listening to are snippets of songs with other parts playing simultaneously taken out
2 - I'm going to speculate (and I'm 100% positive on this one) that the order we are receiving these in is the track order of the album. So 'Spanish Sahara' is in the middle. What does it mean? Well I think we can agree that some of the highlights of an album are usually the opener and the closer, and since those aren't 'Spanish Sahara' that means that even if possible, a song better than 'Spanish Sahara' will be on the album. Fucking exciting!
3 - The lyrics we have been given are NOT part of the chorus, just verses that I suppose Yannis favors.
But what does that picture have to do with 'Spanish Sahara'? It's mud. That doesn't relate to the song or the video at all, either way still an awesome post.
Rumored track list as of now from many sources:
'Blue Blood'
'Miami'
'Total Life Forever'
'Black Gold'
'Spanish Sahara'